エドワード・ケンウェイはアブスターゴエンターテイメントリサーチアナリストがアニムスによって追体験したエドワード・ケンウェイの遺伝子記憶の一つである。
乗り込んでいた船に攻撃が会った後、エドワードは漂着した浜辺である人物と出会う。
エドワードが乗る船が攻撃されていた
Crew: Hold fast! She's on us!
Edward: Can you see her?
Crew: Man the Cannons!
Crew: Our Helmsman's dead! Someone take the Wheel! Kenway! Take the bloody Wheel!
エドワードは舵をとって敵船に攻撃をしかけた
Crew: Uncork the Cannons, Lad! Unload all the Shot we have! Fire on those Bastards!
敵船を沈める
Crew: The Magazine! It's going up!
Captain: Douse the Flames! Get in there, you Mongrel!
不思議な人物が現れ、その攻撃で船長が殺される。エドワードと人物は爆発により船外へ吹き飛ばされる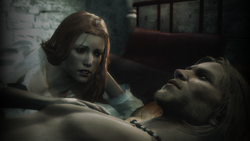 Caroline: Is it dangerous? Edward?
Edward: Hm?
Caroline: Privateering. Is it dangerous?
Edward: Wouldn't pay so nice if it weren't.
Caroline: Why not sail with the King's Navy? Earn a proper Wage. Sail under Gentlemen.
Edward: Sod the Navy's Gentlemen. For every Shilling I'd earn, the Captain'd get six Hundred. That's no Way to earn a Fortune.
Caroline: We don't need a Fortune.
Edward: It's not about Need, Caroline. I want Food that don't make me sick. I want Walls that hold back the Wind. I want a decent Life.
Caroline: H-how long would you be gone with these Privateers?
Edward: A Year, I reckon. Two at the most.
Caroline: All right. No more than two... promise me...
Edward woke up in the water and swam towards a beach, where another man followed him.
Edward: Was it good for you as well?
Duncan: Havana... I must get to Havana.
Edward: Well, I'll just build us another Ship, will I?
Duncan: I can pay you. Isn't that the Sound you Pirates like best? One hundred Escudos.
Edward: Keep talking.
Duncan: Will you or won't you!
Edward: You don't have that Gold on you now, do you?
Duncan: Bloody fucking Pirates!
Edward: I am on to you, Sneaksby!
Duncan ran off into the jungle, and Edward gave chase.
Edward: Come on Mate! We're off to a bad Start! It's a hundred Leagues or more to Havana! Will you walk that Distance?
Edward climbed onto a viewpoint and looked for the Assassin.
Edward: Posh Git. Where's he running to?
Duncan: Follow and I'll kill you!
Edward: We could work together on this!
Duncan: Keep your Distance!
Duncan shot Edward, after which Kenway chased him down and killed him. Among Duncan's possessions, he found a letter addressed from Governor of Cuba, Laureano de Torres y Ayala.
Letter: (Mr. Duncan Walpole). I accept your most generous Offer, and await your Arrival with Eagerness. If you truly possess the Information we desire, we have the Means to reward you handsomely. Though I will not know your face by Sight, I believe I can recognize the Costume made infamous by your secret Order. Therefore, come to Havana in Haste... And trust that you shall be welcomed as a Brother. (Your most humble Servant, Governor Laureano Torres y Ayala.)
Edward donned Duncan's robes.
Edward: Mr. Walpole... let's collect your Reward.
Edward heard shots in the distance, and proceeded to investigate.
Edward: That Schooner'll do me just fine...
Soldier: The Commodore's gone ahead to Kingston. We're to commandeer this Lubber's Ship and Follow.
Stede: S-sorry, Kingston? No, no... our Destination is Havana. I'm just a Merchant-
Soldier: Quiet, you bleedin' Pirate! You'll hang for the Mess you made out there.
Stede: Sir, I had nothing to do with this Attack. My Crew and I had merely anchored to water and resupply!
Some of the crewmen attempted to escape.
Soldier: Hold it! Stop them!
The crewmen were shot by soldiers.
Soldier: Give me one Reason I shouldn't vent your Skull.
Stede: Take my Sugar! Take anything you like!
Edward killed the British soldiers and rescued Stede Bonnet.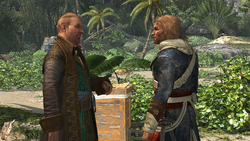 Stede: By God's Grace, sir, you saved me. A Profusion of Thanks!
Edward: Is that yours?
Stede: It is my Vessel, yes. But, ah... here lies its poor Captain. And I have no Art for Sailing.
Edward: I can pilot her myself. No mind.
Stede: You don't mean to abscond with my Ship, do you?
Edward: I'm Duncan. What's your name, Friend?
Stede: Stede. Stede Bonnet.
Edward: Well Mister Bonnet, let this stay 'twixt us... but I am on a secret Errand for His Majesty the King, God save him, and I must get to Havana with Speed.
Stede: Ah... that is a Relief, Sir. Havana is also my Destination. Our Ways lie together!
Edward: Natural Allies then.
Stede: Oh, you put me at Ease, Sir. To think I took you for a Pirate when you first appeared.
Edward: Did you?
Stede: Yes! You have an... uncommon way of handling yourself. Quick and easy, if I may say. Gave me quite a Fright! But all Things considered, I think it's turned out to be a rather fortuitous Day, hasn't it?
Edward started swimming towards the ship.
Stede: Lacking a rowboat, I'm afraid we'll have to swim to my Ship.
Edward: Hardly the worst thing to happen.
Stede: Oh... Oh, this is difficult. I should have taken the Coat off!
Edward took the wheel of the ship.
Stede: Welcome aboard, Duncan. She's a modest Schooner but well-suited to my Purpose. Trafficking Cargo from my Plantation and such.
Edward: She'll do fine. There's a strong Wind now. Let's strike to Full, shall we?
Stede: Ah, there's a Tug of the Wind at my Hair! I find a bracing Comfort in the Feel and Smell of the Ocean. The raw Stink of... of Possibility!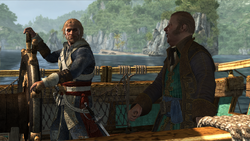 Edward sailed out of the bay.
Edward: That's a top Way of seeing it, Mate.
Stede: We've really opened it up now, haven't we!
Stede: You're a natural Sailor, Duncan.
Edward: I did a decent Trick at the Helm some time ago. Two Years before the Mast as a Privateer.
Stede: Dash my Buttons! Your Life seems a grand One, if I may say. So full of Adventure! How marvelous.
Edward: I have seen my Share of Strangeness, aye.
Outcome
編集
Edward assumed the identity of Duncan Walpole, rescued Stede Bonnet and sailed for Havana.
Reference
編集
広告ブロッカーが検出されました。
広告収入で運営されている無料サイトWikiaでは、このたび広告ブロッカーをご利用の方向けの変更が加わりました。

広告ブロッカーが改変されている場合、Wikiaにアクセスしていただくことができなくなっています。カスタム広告ブロッカーを解除してご利用ください。